Hoocha opens Petaluma Tasting Room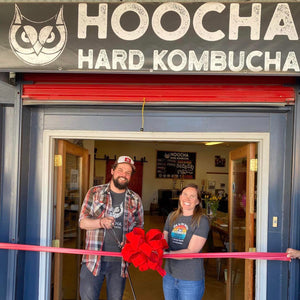 Hoocha hard kombucha, Northern California's first hard kombucha, has announced the opening of its new tasting room in Petaluma, CA. They are celebrating their opening with an official ribbon cutting with the Petaluma Chamber of Commerce on Thursday April 27, starting at 4:30 PM. All are invited to attend.
The tasting room is located in downtown Petaluma near The Block at 133 Copeland Street, Suite B. They will be open Fridays 4-7, Saturdays 2-5, and by appointment. The new tasting room is a great place to relax and enjoy a few drinks with friends. The tasting room features the full variety of Hoocha hard kombucha flavors and some tasting room exclusives. The tasting room also has a covered outdoor patio and plenty of parking.